The U.S. airlines tend to pale in comparison to other international airlines. And even among the Big Three (Delta, United, and American Airlines), American Airlines always seems to be trailing in third place. But based on my American Airlines Boeing 777 business class flight, it's hard to believe AA isn't held in higher regard.
*If you haven't read how we made it happen or the review from the first leg on our AA business class flight itinerary, be sure to check out both blog posts, too.*
American Airlines Business Class with Credit Card Points
American Airlines offers two different credit cards (one through Barclays and one through Citi). These airline credit cards are the quickest and easiest way to earn AA miles without actually flying. 
The one-way business class fare cost 57,500 American Airlines miles, and the taxes only cost $5.60. That definitely beats redeeming those points for some lame domestic ticket that would probably only cost $200 out of pocket.
The problem with AA miles is that they can be hard to spend. American Airlines tends to be very stingy with their award availability, so you really need to take what they give you. I was lucky enough to find award availability on a domestic AA flight from DC to Miami, and then from Miami to Santiago, Chile.
However, that's only one of the flights to Santiago. I still needed a way to book another ticket for my wife. Luckily, Alaska Airlines is a partner with American Airlines. Alaska Airlines also has an advantageous award chart. Since there was already award space available on the flight to Santiago, I could use 57,500 Alaska Airlines miles to book the second award ticket from DC to Santiago. I already had roughly 30,000 Alaska Airlines miles, and I quickly earned another 30,000 more miles by signing up for the Alaska Airlines credit card. After the sign-up bonus, I had enough points to book the second ticket for my wife.
While this was pre-COVID in 2018, there's still an opportunity for great AA business class redemptions. Take this flight from Miami to Santiago:
So no only is this award redemption still available, it's actually cheaper and on a newer aircraft (the Boeing 787)!
I should note that this 55,000 mile price is a one of AA's "Web Specials," which means you can't make any changes after you buy it. The full price would only be a modest 2,500 more miles, so depending on how set you are on the flights, you could opt to pay a little more for added flexibility.
When redeeming points for an award flight, it's always helpful to determine how much the flight would cost in actual dollars. In this case, the AA business class flight would cost $1,901.
This means that the 55,000 AA miles used to book the award flight are worth roughly 3.5 cents/mile. This valuation isn't as high as the Korean Air or Emirates redemptions. But it is still higher than 2 cents/mile, which always a good threshold to shoot for. Especially considering that there are two different credit cards were offering 50,000-60,000 mile sign-up bonuses at the time I was flying, earning the necessary miles for this flight is simple. (Please note signup bonuses are subject to change)
Airport Experience
After a surprisingly awesome business class flight from DC to Miami, we hustled across the airport to our next flight to Santiago, Chile. We only had about an hour between flights and the big Boeing 777 starts boarding 45 minutes before takeoff, so we knew we wouldn't have any time to spare at the Miami airport. Unfortunately, that meant we wouldn't be able to explore the business class lounge, but I'll take a perfectly timed connection over four hours in an airline lounge any day.
We showed up at our departure gate literally two minutes before they started boarding. Talk about perfect timing. 👌
American Airlines Boeing 777 Business Class Seats
Business class passengers were the first to board, so we shuffled by the gate agent and found our seats/beds for the next 8+ hours. It was obvious that our plane featured some of the new, sleek business class seats that American Airlines recently rolled out.
The seats were in a 1-2-1 configuration (one window seat, two aisle seats, one window seat), providing direct aisle access to all business class passengers. So no need to wake anyone when you have to use the bathroom mid-flight.
My wife prefers window seats, so rather than the two side-by-side aisle seats, we opted for back-to-back window seats.
Underneath the armrest next to the window was plenty of storage for small items as well as a remote control for the in-flight entertainment system. There were also plenty of USB ports and electrical outlets to charge any phones, iPads, etc.
The seats were super comfortable and brand new. I loved the charcoal gray. There was a handy reading lamp just above the seat so you wouldn't have to turn on all the overhead lights.
Here's a look at the digital seat controls. It was a bit touchy, but I thought the lumbar support was a nice feature. I don't recall that on my Emirates flight. At this point, the flight attendant came around with glasses of champagne. Twist my arm.
The seats are all at an angle, with the footwell underneath the seat in front of each passenger's armrest. Sometimes these angled seats mean that bigger dudes have a tiny cubby hole for their feet, especially when the seat is completely horizontal. Definitely not the case with these seats.
And of course, the obligatory champagne picture. Cheers!
The seat also came stocked with a Casper-branded mattress pad, blanket, and pillow. A very nice touch to have name brand bedding.
I was apparently too tired to take pictures, but it was easily the best sleep I've ever had on an airplane. Maybe it was because it was a Thursday after work and I was super tired. Maybe it was because it was actually late at night (around midnight). Or maybe it was how comfortable the seat and blankets were. But I had a solid six hours of sleep.
American Airlines Boeing 777 Business Class Amenity Kit
Each American Airlines Boeing 777 business class seat also came with a Cole Haan amenity kit in a handy bag.
The bag was probably 3x the size it needed to be, but better too much room than not enough, right?
The amenity kit came with a pretty basic assortment of toiletries, including lotion, chapstick, mouthwash, tissues, earplugs, toothbrush/toothpaste, an eye mask, a pen, and coupons for Casper and Cole Haan. The bedding in American Airlines business class is a Casper branded, hence the Casper coupon.
The toiletries were all very small, but the perfect size for use on a flight. I have more half-used toiletry bottles than I know what to do with, so the extra small chapstick/lotion/mouthwash was perfect.
American Airlines Boeing 777 Business Class Inflight Entertainment System
Next I decided to try the in-flight entertainment system. Each seat had a pair of Bose noise-canceling headphones, which is an upgrade from any other business class flight we've flown.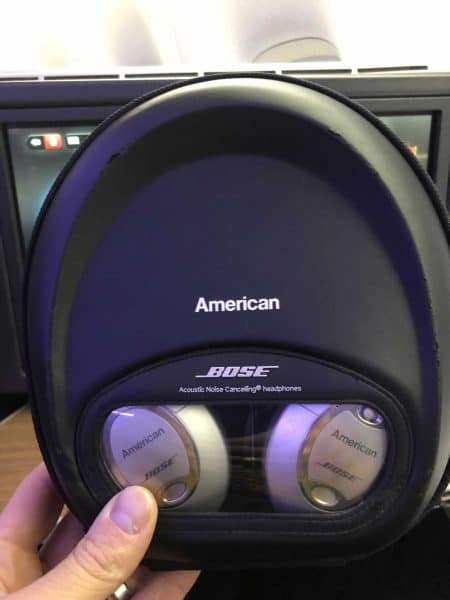 The Bose headphones were a great feature, but don't get any big ideas to take them with you after the flight. The flight attendants actually came through before landing to personally ask each passenger for their set Bose headphones.
The inflight entertainment system was great, even though American Airlines isn't known for have a huge selection of movies. But since it's a U.S.-based airline, most of the options were American movies. That's what I'd prefer to watch, so I had plenty of options to choose from.
American Airlines Boeing 777 Business Class Menu & Meals
One of the best parts of flying business class is being treated to an upgraded meal. The flight attendant handed out the menus as we boarded.
As you can see, there were a decent number of options. I was already satisfied with dinner served the previous flight, but had already preordered the filet mignon online in the days leading up to the flight. Preordering is completely optional, but it ensures AA won't run out of your preferred option while onboard.
I also ordered a bourbon, and the flight attendant came back in a few minutes with a glass of Woodford Reserve and a dish of warmed nuts.
Maybe 15 minutes later, the flight attendant brought over my dinner. I like anything and everything with mango, so I was a big fan of the mango and manchego "small plate." The spinach and arugula salad was a step up from the average airplane salad, and the plates were also much nicer than the lame plastic dinnerware we're used to in the economy.
As far as the steak… it was ok. The grille marks make it look nice, but the meat tasted like it was cooked on a plane (duh). Another good example that the food in business class IS better, but don't expect Ruth's Chris Steak House-level beef. While the steak was "meh," the mushroom corn pudding was legit, and though I fancy myself as an asparagus snob, the asparagus passed my test.
My wife also preordered the steak, but five minutes after takeoff, she was down for the count and slept right through dinner. We had already eaten one meal, so probably a wiser choice.
After the flight attendant cleared my dinner tray, he came back around with dessert. I opted for the mint chocolate chip ice cream, which came in its own glass with a pirouette and chocolate on the side. Much better than throwing a single-serve carton of ice cream in economy class.
After getting some shut eye, I awoke as the cabin crew started its breakfast service. The cabin lights started coming on, and I saw a glass of orange juice already poured on my tray table. I thought that was a nice touch, and it was exactly what I wanted when I woke up.
While I thought the preemptive OJ was awesome, my wife was less impressed. That's because she accidentally kicked the OJ off the shelf while she was waking up since she didn't know the flight attendant set it there while she was sleeping. So while I was enjoying my glass of orange juice, my wife was cleaning up spilled OJ off of her blanket and pillow. At least it happened AFTER her her night of sleeping?
Shortly after my wife leaned up the orange juice, the flight attendant served us breakfast. While dinner can be hit or miss, I feel like plane breakfast is always easier. The fruit was fresh, the biscuit had adequate flakiness, and the omelet, sausage, and potatoes were just fine. I really hate arriving hungry after a long flight, and this breakfast easily held me over until lunch.
About 45 minutes after the flight attendant cleared our trays, we landed in Chile. There's only a one hour difference between DC and Santiago, so we were spared from jet lag and well-rested after managing real sleep on our overnight flight.
Overall Experience – American Airlines Boeing 777 Business Class
Overall, I was thoroughly impressed American Airlines Boeing 777 business class, and it blew away our expectations. I'd definitely recommend it to others looking for great credit card points redemptions.
Keep in mind the type of plane you're scheduled to fly on. Our American Airlines Boeing 777 business class flight was on one of the upgraded aircrafts with the new business class seats. So do your research before you book.
Airport Experience/Lounge: N/A
Hard to assign them a proper grade when our tight connection meant we had to rush to our flight. Definitely a bummer, since I had heard great things about the AA business class lounge in Miami.
Seats/Inflight Entertainment: 9/10
One of the highlights of the flight was the lie-flat seat. Again, maybe part of it was because we were so tired, but both of us slept like rocks through the night. We had the best sleep we've ever had in the sky! And with plenty of options for the IFE system, we enjoyed our time awake as well.
Service: 6/10
While the seats were great, the service left a lot to be desired. The AA flight attendant on our connecting flight to Miami was super personable, and she gave everything that little extra touch. So I would have expected something comparable on our long flight to Santiago. But that sadly wasn't the case. It seemed like our flight attendant for the long flight was assigned more seats than he could handle, causing him to be rushed throughout the meal services. He wasn't rude, but he wasn't exactly friendly either.
Food: 7/10
The food was average. I had much higher hopes after the fantastic meal on the connecting AA flight, but my steak was disappointing. Better than your typical airplane food, but nothing like other international business class meals.
Overall: 8/10
Maybe it's because I came in with low expectations, but I walked out of my American Airlines Boeing 777 business class seat thoroughly impressed. The seats were new, comfortable, and laid flat into the most comfortable "bed in the key" we've experienced. A good example that you can't judge a book by its cover.
---
Want to start your own credit card points journey? Check out our website site to learn the basics of travel hacking, and follow our blog for more tips on how to make your dream vacation a reality. If you're ready to explore different travel credit cards, check out our partners at Cardratings for the best available credit card offers.
Advertiser Disclosure
PointsPanda Deal of the Week!
Looking for the best flight deals? Each week we'll send you updates with the best deals on flights and hotels both using points and cash.
We care about your privacy and would never sell your information to 3rd parties, please see our
privacy policy
for more information