The Delta Medallion Program is for Delta's elite and loyal members in its SkyMiles frequent flyer program. It is composed of four different flight statuses, with each tier having corresponding rewards and benefits.
Anyone who's a member of the regular SkyMiles program is eligible to become a member of the Medallion Program once they hit a certain number of MQMs, MQSs, and MQDs (defined below). Elite members can avail of partner product offerings, airline tickets, flight upgrades, and awards. There are also other special deals that are exclusive to elite members only.
Delta Medallion Program Requirements
There are three things you need to hit so you can earn a Delta flight status, and these are – Medallion Qualifying Miles (MQMs), Medallion Qualifying Segments (MQSs), and Medallion Qualifying Dollars (MQDs). Alternatively, you may earn MQD waivers instead of earning MQDs.
But before we get into the details, you need to know there's a difference between the regular SkyMiles program and the Medallion SkyMiles Program. The former is for general flyers, while the latter is for Delta's elite members.
You can immediately earn regular miles once you sign up for the regular SkyMiles program. The amount of money you spend on Delta flights would then determine the number of miles you'll get.
On the other hand, you need to earn MQMs, MQSs, and MQDs to have elite status. There are four tiers in the Medallion Program, and these are – Silver, Gold, Platinum, or Diamond. You'll get exclusive member benefits if you hit any of these Delta Flight statuses.
MQMs vs MQS vs MQDs
You need to earn a combination of either MQMs and MQDs or MQSs and MQDs to hit a specific tier. But let's break down each item so you can fully understand what their purpose is.
Medallion Qualification Miles are the number of miles you've flown using Delta airlines. It's that simple.
Medallion Qualification Segments are the number of the point-to-point flights you've flown, and this includes all connecting flights too. Let's say you have a flight from New York to Los Angeles, and you have a stop at Dallas, this means that you have flown two segments – New York to Dallas and Dallas to Los Angeles.
Medallion Qualification Dollars is the third criteria you need to hit to achieve a Delta flight status. MQDs refer to your annual spending on Delta flights and other partner flights.
MQD Waivers are basically a substitute for MQDs. This option is for members who earned their SkyMiles through a Delta co-branded credit card since SkyMiles earned through credit cards do not count as MQMs or MQDs. Spending $25,000 in a year will earn you an MQD Waiver that can be used towards earning a Silver, Gold, or Platinum status. Meanwhile, spending $250,000 will earn you a Diamond status.
Here's a breakdown of the requirements to hit a Delta Flight status.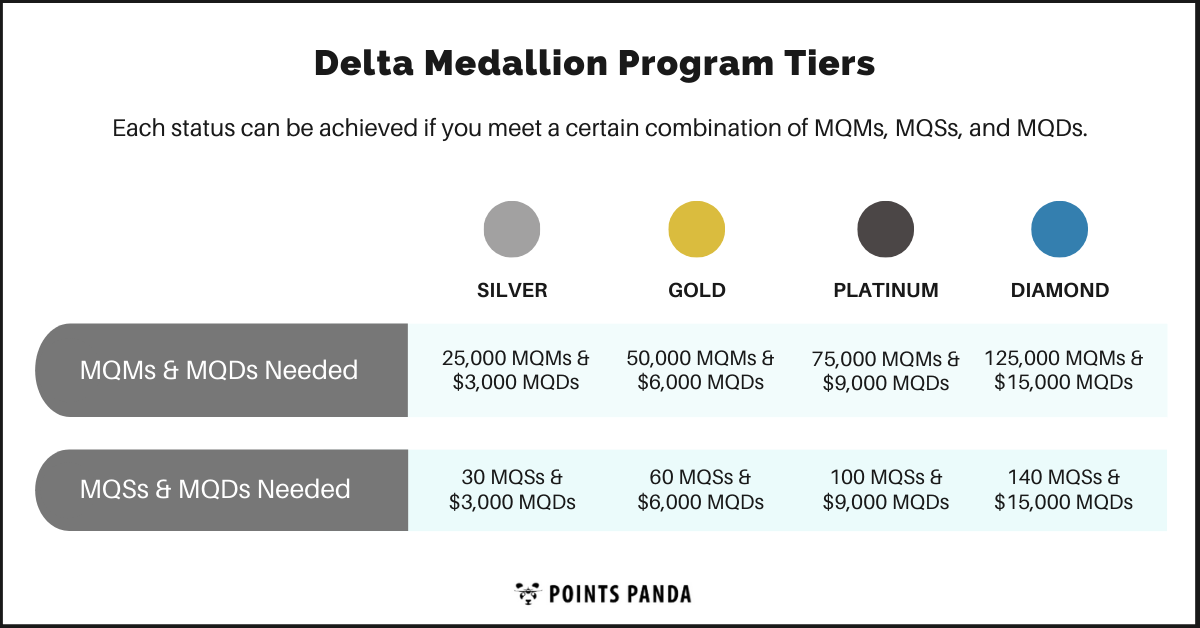 How To Earn Them
Flight passengers, who are Delta Medallion program members, can get the MQMs, MQSs, and MQDs. All of your earned miles, segments, and dollars will be shown on the My SkyMiles page.
Qualification Period
Delta's qualification period is from January 1 to December 31. Any qualifying miles, dollars, or segments you will earn will then determine your status for the following year. For example, if you've earned a total of 75,000 MQMs and $9000 MQDs between January 1, 2022 to December 31, 2022, you'll be awarded a Delta Medallion Platinum status for the year 2023 Medallion year.
Medallion Year & Status Validity
The validity of your elite status starts from the day you earn it up until the end of the year, plus a full Medallion year.
According to Delta, a Medallion year runs from February 1 until January 31 of next year. For example, the 2023 Medallion year will start on February 1, 2023 to January 31, 2024.
To simplify, let's go back to the example above. If you've earned a total of 75,000 MQMs and $9000 MQDs on November 30, 2022, this means that you will have Platinum status from November 30, 2022 up until January 31, 2024.
Program Benefits
By now, you've probably figured out that the more you spend on flights, the more benefits you'll get. Some of the benefits you can get if you have Medallion status include:
Free checked bags
Ability to earn and use points
Free cabin upgrades
Priority boarding/seating
Expedited security
Lounge access
There are also additional Delta Medallion program benefits for each tier that are exclusive for members of that level. For example, Platinum members can earn 11 miles per dollar compared to Silver members who only earn 7 miles per dollar.
Is the Delta Medallion Program For Me?
We can't answer this question for you because it would totally depend on your spending capacity, however, you can always apply for a basic SkyMiles membership. You can upgrade your membership status along the way as you make changes in your travel lifestyle or spending capacity.
You can use any travel credit card to be a SkyMiles member. After, all the miles you'll earn on the program are totally separate from the points or miles you earn on your card, but you can always transfer those points to other airline partners – including Delta.
If you're confused how credit cards and transfer partners work, you can sign up for our travel concierge and get unlimited consultation for one full year.
Going back, we do recommend signing up for any of their Delta SkyMiles credit cards to fully maximize the benefits of the SkyMiles rewards program. For example, if you sign up for the Gold Delta SkyMiles Credit Card from American Express, you'll get 40,000 bonus miles after spending $1,000 within the first 3 months of card membership. You can use these to directly cover Delta flight costs which can eventually add up to your MQDs, MQMs, and MQSs.
Advertiser Disclosure
PointsPanda Deal of the Week!
Looking for the best flight deals? Each week we'll send you updates with the best deals on flights and hotels both using points and cash.
We care about your privacy and would never sell your information to 3rd parties, please see our
privacy policy
for more information