Sometimes, the business class experience doesn't live up to expectations. Copa Airlines business class is one of those cases.
I previously wrote about how pleasantly surprised I was with American Airlines, both the short domestic flight from DC to Miami then the overnight flight to Santiago.
For our return flights from Chile, we booked with Copa Airlines, Panama's national airline and a Star Alliance partner. But little did we know, we should have kept our expectations even lower. The Copa Airlines experience was so disappointing that I wish we would have saved the miles and flew in economy class instead. 👎
Copa Airlines Business Class with Credit Card Points
Travel credit cards are a great way to get really cheap travel deals, and in this case, we booked a Copa Airlines business class award ticket using our points on one of the airline's Star Alliance partners. Other partners include frequent flyer programs such as United Airlines, Air Canada, Singapore Airlines, ANA, and Turkish Airlines. Copa also has a codeshare agreement with Aeromexico, which allows you to redeem Aeromexico miles for redemption on Copa Airlines as well. 
I booked the award flight by spending 60k United Airlines miles for each ticket. However, the price has since increased to 66k miles per ticket. There are cheaper award programs to use, but since United is a transfer partner with the Chase Ultimate Rewards program, it made for a perfect complement to my stash of United Airlines miles.
The current cash price of this same flight is $1,394/each, which means redeeming 66k United Airlines miles yields a 2.1 cents/point valuation.
That is minuscule compared to my other redemptions on Emirates and Korean Air. So right off the bat, we knew that it was as exciting of a redemption as for as the valuation.
But the beauty with booking Copa Airlines business class award flights is that award availability is generally WIDE OPEN. I was flying over a holiday weekend (Labor Day) and still had my pick of any date and time. It appears that still is the case:
So there's a tradeoff: a huge decrease in valuation, but a huge increase in award availability. One of the hardest parts with booking award flights is finding award availability, but this isn't a problem at all. With that, Copa Airlines business class just isn't as pricey and fancy as Emirates or Korean Air. So you'll have to temper your expectations.
Want to learn more? Check out our partners at Cardratings.com for the current best available credit card offers.
---
Read More: Korean Air Business Class – A380 and A330: Flight Review
---
Check-in Experience
I've learned that one of the best perks of flying in business class is cutting to the head of the line.
However, since our flight was departing at 3:21am… there was no line. So we dropped off our bags at the check-in desk, had our passports checked, and were directed to the gate.
We went directly to our gate because there was no airport lounge available at the Santiago, Chile airport at 2:30am. That is also one of the perks of flying in business class, but again, no such luck.
So needless to say, nothing about the check-in experience really made us excited.
Copa Airlines Business Class Seats
Copa Airlines is known for a mediocre business class seat, and we knew that going in. Copa Airlines flights are relatively short (since Panama is located in the middle of the Western Hemisphere), so there's little point in investing in fancy seats for 5-6 hour fights.
Here are their "updated" business class seats:
Not bad, but nothing like our American Airlines flights to Santiago. When booking our flights, we were ok with that. There's still ample legroom and enough recline to catch some decent sleep. Our flight left at 3:00 am, so we figured we'd be exhausted anyway.
And we absolutely were. We were running on about four hours of sleep, so we really looked forward to passing out on the plane.
We were among the first to board and took the mandatory business class selfie.
As you can seat, the seats are nothing special, though there is plenty of legroom. The entertainment system and tray table are tucked away in the center armrest, so there's only a seatback pocket with literature in front of us.
Our intention was to sleep on this first flight and enjoy the in-flight entertainment for the next flight. Which made perfect sense at the time, give that we departed at 3:00am.
Copa Airlines Business Class Amenity Kit
Each business class seat also had a small amenity kit that came in a pouch with an indigenous Panamanian design.
Inside the amenity kit were a small lotion, chapstick, toothbrush/toothpaste, an eye mask, and socks. Fairly basic, but for a short flight, a completely adequate little perk. I was a little surprised the kit didn't come with earplugs, especially as I noticed two babies in business class. Luckily, we had earplugs from a previous amenity kit handy.
Copa Airlines Business Class Meal Service
The flight attendant let us know that breakfast would be served prior to landing in Panama City, which allowed us to sleep as soon as the plane was airborne. You didn't have to tell us twice, and both of us kicked out our leg rest and reclined the seat as soon as we could. They weren't lie-flat seats, but it was decent. For some reason, I thought the toe rest at the end of the leg rest was super helpful. Not nearly as comfortable as other sleep in business class, but we knew what we signed up for.
After about five hours of rest (hard to call it real "sleep" even though we were super tired), the flight attendant woke up the business class cabin and served breakfast. It's hard to mess up breakfast, and Copa Airlines didn't let me down here.
Breakfast came with fruit, a croissant, yogurt, orange juice, coffee, and the main dish. My wife opted for the French toast, while I chose the omelet and bacon. We had a relatively early dinner the night before, so the standard breakfast hit the spot.
First Copa Airlines Flight Quick Review
Overall, the first flight was ok. We attempted to sleep most of the time since we departed in the middle of the night, and while the seats weren't exactly designed for sleeping, again we knew what we were getting into. I just wish that same could have been said for the next flight…
The Second Flight Letdown
We arrived on time in Panama City, Panama, and had a short layover before boarding our flight home to Washington, DC.
Like many international flights to the United States, we had to go through an extra security checkpoint in order to reach our departure gate. Not out of the ordinary, but I was a little annoyed that there wasn't a business class lane. We didn't get any special treatment at the Santiago airport, and we couldn't even check out the Copa Airlines business class lounge at the Panama City airport due to the tight connection. The least they could do is setup a separate business class lane, right?
Copa Airlines Business Class Seats, Version 2
We were expecting to fly on the same type of Boeing 737-800 on both of our Copa Airlines flights. Both flights were about the same distance (to Panama about six and half hours, and to DC about five hours), and my assumption was also that they'd want to fly a nicer business product to the DC market.
I'll let you try to find what's missing. Here's a stock picture of the cabin we flew to DC.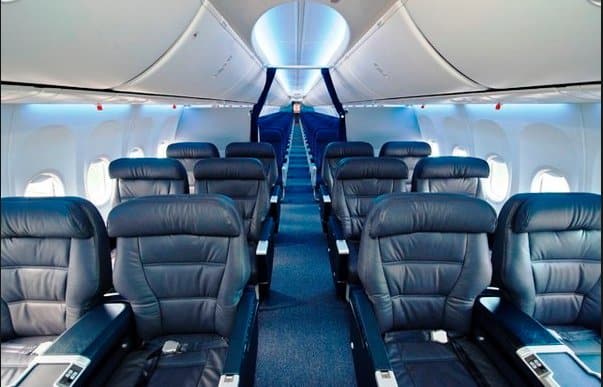 Looks basically the same right? Here's a picture of my seat.
Notice anything different from our first flight? There's no personal in-flight entertainment screen and no footrest. While it was also a Boeing 737-800, the plane was a downgraded version with an even skimpier business class. Even in business class, the only entertainment option was with shared overhead monitors that played a show with kids playing practical jokes on random people walking by and ads for various things in Panama.
Needless to say, I was very disappointed. I strategize and save my credit card points to splurge on an experience I wouldn't otherwise pay for, but instead I'm left to read and reread the inflight magazine for the five-hour flight back to DC. 👎
I was also bitter because we didn't need to watch any entertainment for our last flight since we were sleeping the whole time. But now that we were actually awake, it was no longer available. Thanks, Copa Airlines. 😡
Copa Airlines Business Class Meal Service, Flight #2
At least Copa Airlines still serves business class passengers a meal on the flight. It was another round of breakfast (which was appropriate given the time), and the flight attendant supplied menus to each business class passenger.
Nothing too fancy, but as I said, it's hard to mess up breakfast.
I always try to order the local beer/wine/liquor whenever I travel, and noticed the airline offered a Panamanian rum called Abuelo. It was 10:00 am by the time we were airborne and the flight attendant asked for drink orders. But at that point, I needed a stiff drink to hold me over until our arrival in DC, so I asked the flight attendant for an Abuelo rum and Coke with breakfast. Not my typical choice, but I'll take whatever semblance of a "luxurious" experience I could get with Copa Airlines at that point.
After telling my order, the flight attendant gave me an emphatic eye roll. 🙄 I get it; it's not even noon and some dude is ordering a drink with breakfast. But just roll with it.
The meal was very similar to the last flight's breakfast. Though I'd probably say the omelette was better than the pancakes.
After the meal, I had about three more hours to burn before landing in DC. I could have really used another serving of Panamanian rum, but the flight attendant wasn't the friendliest and didn't make many rounds through the cabin after the breakfast service. Taryn and I scrolled through our pictures from the trip, attempted to sleep, and half-watched the lame TV show on the overhead monitor with kids playing practical jokes on random people. Compared to even the previous Copa Airlines flight, our experience was very disappointing.
More Disappointment On Arrival
The cherry on top was our arrival in DC.  We never check bags, but we *had* to check our bags to bring home a bottle of Chilean wine from the trip.  With other airlines, business class passengers' bags are given priority when offloading at the airport, to the point where the bags are often waiting at the baggage carousel after we make it through customs.  We breezed through the Dulles airport's "mobile lounges" and were among the first people in line at the queue for Global Entry passengers all thanks to my Chase Sapphire Reserve Card.
We were making great time and couldn't wait to get home…but then we waited 30 more minutes for our suitcase at the baggage claim, just like all the rest of the airplane.
Yes, it's a tad petty. But of all the things Copa Airlines fell short on, this was the final reminder that their business class experience just isn't worth it.
---
Read More: Aeromexico Flight Review – 787-9 Business Class During Covid (Better than expected!)
---
Overall Experience with Copa Airlines Business Class
Am I bitter? Yes, but not because the service or experience was that bad. I'm more bitter because the business class flights from Chile on Copa Airlines cost the same amount as business class flights from DC to Europe, which provide a much better overall experience. So I'm kicking myself for spending 120k United miles on Copa Airlines rather than lie-flat seats with Swiss/Austrian/Lufthansa to Europe.
So lesson learned: keep your expectations for Copa Airlines low, and save those miles for other, better redemptions instead!
Airport Experience/Lounge: 5/10
This might be partially my fault for flying at 3:00am and having a tight connection in Panama City (couldn't visit a lounge at all). But when Copa Airlines could have stepped up (business class lane for security, priority bag handling), they didn't.
Seats/Inflight Entertainment: 4/10
Again, this is partially my fault for assuming both airplanes would be exactly the same so that I could forgo enjoying the IFE during the first flight. The recline on the seats were fine, but I still can't believe our second fight didn't have IFE at all!
Service: 6/10
Besides the side-eye from the flight attendant for asking for rum at 10:00am, the service was ok. Not great, not horrible… just ok. It certainly pales in comparison to some other airlines.
Food: 7/10
The meals on the flight were slightly above average. Breakfast is the easiest meal to make on a plane, so luckily Copa Airlines business class had a low bar to meet.
Overall: 5.5/10
I went in with relatively low expectations for Copa Airlines business class, and I was STILL underwhelmed. We would have been better off flying in economy and saving the credit card points!
---
Want to start your own credit card points journey? Check out our site to learn the basics, and follow our blog for more tips on how to make your dream vacation a reality. Or you can sign up for our travel concierge and get one whole year of unlimited credit card and award booking assistance.
Advertiser Disclosure
PointsPanda Deal of the Week!
Looking for the best flight deals? Each week we'll send you updates with the best deals on flights and hotels both using points and cash.
We care about your privacy and would never sell your information to 3rd parties, please see our
privacy policy
for more information