If you're one of those flyers who love to fly in comfort during long-haul flights, then Delta Premium Select is perfect for you. It's one of Delta Airline's seat offerings which falls between economy class and business class; in simple terms, it's basically a premium economy seat offering.
Flying in Premium Select comes with an array of perks starting from the airport up to the aircraft. Some of these perks include reclining seats, free checked bags, priority boarding, and more. If you're planning to fly Delta Premium Select on your next trip, here are some things that you need to take note of.
---
Read More: How To Get Delta 360, Delta's Invitation Only Status
---
What Is Delta Premium Select?
Delta Premium Select is a premium economy fare class that's available to select long-haul international routes. It comes with reclining seats, an adjustable footrest/leg rest, and just spacious seats overall.
It's suited for flyers who want to experience elevated airport and in-flight services from Delta – but on a budget. That's not to say that Premium Select is a cheap fare class because it's definitely not, however, it's more affordable than Delta One yet the perks are still pretty solid.
Premium Select was first launched in the fall of 2017, a time when most airlines also started offering their own premium economy fare classes. Passengers under this fare class are typically seated toward the front of the aircraft, right between Delta One passengers (business class) and Main Cabin passengers.
Premium Select VS Comfort+
Don't confuse Premium Select with Delta Comfort Plus because the two are entirely different fare classes. Here are some of their main differences:
Premium Select is only offered on select long-haul international Delta flights while Comfort+ is offered on all Delta flights.
Premium Select seats have leg rests and have more pitch (distance of a seat to a seat in front of it) compared to Comfort+ seats. Basically, you have more legroom in Premium Select.
Food and beverage offerings for Premium Select are already set regardless of the distance of their routes unlike in Comfort+ where food and beverages vary based on distance flown.
There will be larger in-flight entertainment screens on Premium Select seats.
Overall, Premium Select passengers will get additional premium services compared to passengers in Comfort+.
---
Read More: Delta Improving Its Food And IFE
---
Delta Premium Select Benefits
Passengers will experience their Delta Premium Select benefits from the moment they enter the airport up to their final destination. Let's go into detail about what they are.
SkyPriority
Premium Select passengers will have access to SkyPriority lanes which is a dedicated lane that provides a faster and more streamlined check-in procedure. At the airport, be on the lookout for SkyPriority signs and speak to the desk attendants for assistance on how to proceed.
Free Checked Baggage
Premium Select passengers will also receive a free checked bag benefit of up to 2 bags, up to 50 lbs each. If you're lucky, they'll even bump it up to 70 lbs each. Additionally, your bags will have a special tag, courtesy of the SkyPriority service, which will expedite their delivery to your destination.
Delta Medallion members traveling in Premium Select will have up to 3 free checked bags at 50 lbs each – the first free bag as an elite status benefit and the two free bags as a Premium Select benefit. Take note that regional weight restrictions may apply so you might need to check Delta's baggage policy here.
Priority Boarding
Premium Select passengers will board right after Delta One and before Comfort+ customers. Here is the border sequence according to Delta.
Pre-boarding – Flyers requiring special assistance and active-duty U.S. military personnel with ID
Delta One – Delta One customers and Diamond Medallion Members
Delta Premium Select / First Class – Premium Select or First Class passengers. If the aircraft doesn't have a Delta One cabin, Diamond members will board along with this group.
Early Access Passengers – Passengers who are traveling with small children and babies, particularly those in strollers or car seats.
Delta Comfort Plus – Passengers with a Delta Comfort Plus ticket
Sky Priority – Passengers with Platinum and Gold Medallion status members. Status holders from partner airlines will also board under this group:

Flying Blue Platinum and Gold members
Virgin Atlantic Flying Club Gold members
Virgin Australia Platinum and Gold members
SkyTeam Elite Plus member
LATAM Pass Black Signature
Black and Platinum Elite
WestJet Rewards Platinum and Gold Elite

Main Cabin 1 – These are Silver Medallion members, Delta Corporate Travelers, and cardholders of the Delta SkyMiles Gold Card, Delta SkyMiles Platinum Card, and Delta SkyMiles Reserve Business American Express Card. Additionally, passengers with an elite status from these airlines will also board under this group:

Flying Blue Silver members
Virgin Atlantic Flying Club Silver members
Virgin Australia Velocity Silver members
Sky Team® Elite
SkyMiles Select Members
LATAM Pass Gold+ Elite
WestJet Rewards Silver Elite

Main Cabin 2 – Main Cabin customers
Main Cabin 3 – Main Cabin customers booked in T, X, and V fares
Basic Economy – Basic Economy customers (E)
Premium Dining Experience
Experience a multi-course meal served on real plates and flatware, and not on carton boxes. This means that you'll be served appetizers, entrees, and desserts up to two times, typically after takeoff and before landing. Snacks are also served mid-flight on long-haul flights.
Passengers who are 21 years old and above will also get complimentary alcohol from a variety of options ranging from wine, beer, vodka, to cocktails.
Wider Seats
Premium Select seats are more spacious and have more recline compared to Comfort+ and Main Cabin seats. Here are its specifications and features:
Seat width is between 18.5 – 19 inches on A350 planes and 20 – 21 inches on 757-200 (75H) planes
Pitch is up to 38 inches on A350 planes and up to 37 inches on 757-200 (75H) planes
Seat recline is up to 7 inches more compared to Main Cabin seats
In-flight entertainment screens are up to 13.3 inches wide
Seats come with a 110-volt power outlet
Tumi Amenity Kit
Premium Select passengers will get a complimentary Tumi Amenity kit which includes basic hygiene and comfort items such as:
Malin+Goetz lip moisturizer
Sleep mask
Dental kit
Socks
Cleansing towelette
Dedicated Flight Attendant
Passengers will have a dedicated flight attendant/s within the Premium Select cabin. They will be in charge of all your in-flight needs and requests.
---
Read More: Choosing The Best Delta Choice Benefits
---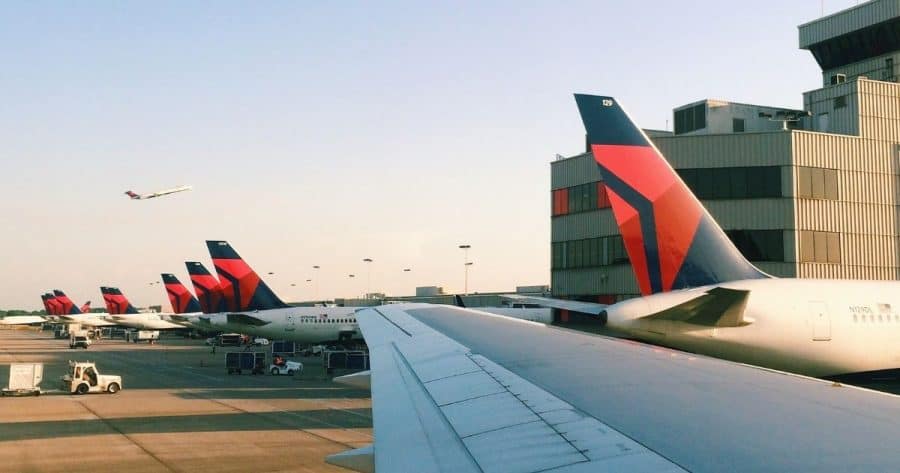 Booking Premium Select Flights
You have three main options when booking Premium Select flights: Global upgrade certificates, cash, or miles.
Global Upgrade Certificates
Diamond Medallion members will receive a complimentary Global Upgrade certificate which can be used to upgrade seats on international and domestic flights on Delta and select partner airlines.
Paying With Cash
Meanwhile, paying with cash is the most basic way of booking Premium Select flights and all you need to do is to select the cash option on the checkout page.
Paying With SkyMiles
However, if you want to pay with SkyMiles, just select the "miles" option and view the available Premium Select flights which can be booked using your miles.
You can earn SkyMiles by flying with Delta or its partner airlines or by signing up for a Delta co-branded credit card. Here are some solid cards that come with big welcome bonuses:
Alternatively, if you have an Amex card such as the American Express Gold Card or American Express Platinum Card, you can convert your Membership Rewards Points into Delta SkyMiles at a 1:1 ratio (ex. 10,000 Amex points = 10,000 SkyMiles).
Bottomline
Now, for the final question that everyone's been waiting for: Is Delta Premium Select worth it? Value-wise, yes! If you're after premium service, extra legroom, and a dedicated cabin at a price lesser than Delta One, then Premium Select is for you.
It's worth the money upgrading your flight to a fare class that has spacious seats, especially on long-haul flights that are at least 8-10 hours long. Plus, if you're a Medallion member, you'll get 3 free checked bags in total which can cut down a chunk of dollars on your travel expenses.
Advertiser Disclosure
PointsPanda Deal of the Week!
Looking for the best flight deals? Each week we'll send you updates with the best deals on flights and hotels both using points and cash.
We care about your privacy and would never sell your information to 3rd parties, please see our
privacy policy
for more information